By chicago-pipeline at August 22, 2012 | 9:21 am | Print
The Weekend Ahead is made possible by Number One Nails, which is newly remodeled & under new ownership!  Mon-Sat 10 am – 8 pm  1144 N. Milw. Ave. 773-235-4880
Got an event to share? Please add it as a comment to this post (date, time, link, address) and we will include it in the weekly pipeline e-newsletter.
Wed. August 22nd 
9:30AM:  Court Hearing for Michael Giffin, charged in rape of Bucktown woman  (26th and California)
5:30-8PM: Veggie Bingo (Hideout)
6 PM: Community Meeting: Winnebago Development(WPB Library, 1701 N. Milwaukee Ave.)
UPDATED: Due to an unforeseen circumstance, the attorney presenting the proposal for the project at 1711-53 N. Winnebago will not be able to attend the meeting. Consequently, the meeting is cancelled and will be rescheduled at a point in the near future. I will contact community organizations and post here when we have a date. –  Jerry from the 1st Ward Office. 
7 to 10 p.m. Oskar Blues 5 Course Beer Dinner $60(SmallBar, 2049 W. Division)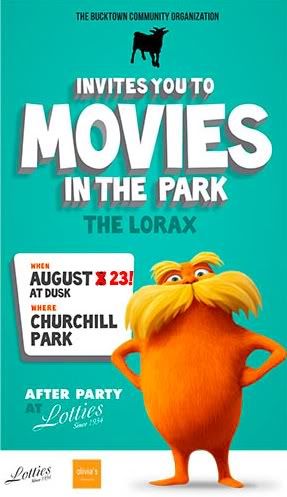 8:30-10:30PM: Movies in the Park: HUGO (Wicker Park, 1425 N. Damen)
Thurs. Aug. 23rd 
Noon- 3 PM: Grand Opening: 7-11-  $0.25 hot dogs, giveaways, etc. (1658 N. Milwaukee Ave).
DUSK (7PM) Movies in the Park: The Lorax (Churchill Park, 2007 W. Churchill)
9 p.m. to 2 a.m:  SPEAKEASY Thursdays Nights at Letizia's Fiore (2456 N. California Ave.)
Fri. Aug. 24th 
5-10PM:  St. Helen's School Carnival (Western and Augusta)
"Name this Restaurant $1200 Contest begins, Through 9/15  (1613 N. Damen)
6 to 9 PM: Wicker Mic (1425 N. Damen, softball field at Schiller)
Sat. August 25th
9 a.m. to 4 p.m. Multi-family Garage Sale (1800 and 1900 blocks of Race)
11 a.m. to 7 p.m. Bucktown Arts Fest (2200 N. Lyndale, at Oakley)
11 a.m. to 6 p.m Chamber's Last Call Sidewalk Sale- over 60 participants (All over Neighborhood)
1 to 5 p.m. Photography Opening: Monologue of the Lens (DreamBox Foto Studio, 2415 W. North)
Noon to 10 PM: St. Helen's Carnival (Augusta Blvd. between Oakley & Western)
Noon to 10PM: 2nd Annual Rock and Roll Pig Roast (The Standard Bar & Grill)
Noon to 10: 2nd Annual Food Truck Social (Chicago Ave. between Wood & Wolcott)
Noon to 10 p.m. 4th Annual Chicago Fashion Fest (M.Go Salon @ The Anthem)
2 to 5 p.m. Free Wine Tasting: Northern Spain (Red & White, 1861 N. Milwaukee Ave.)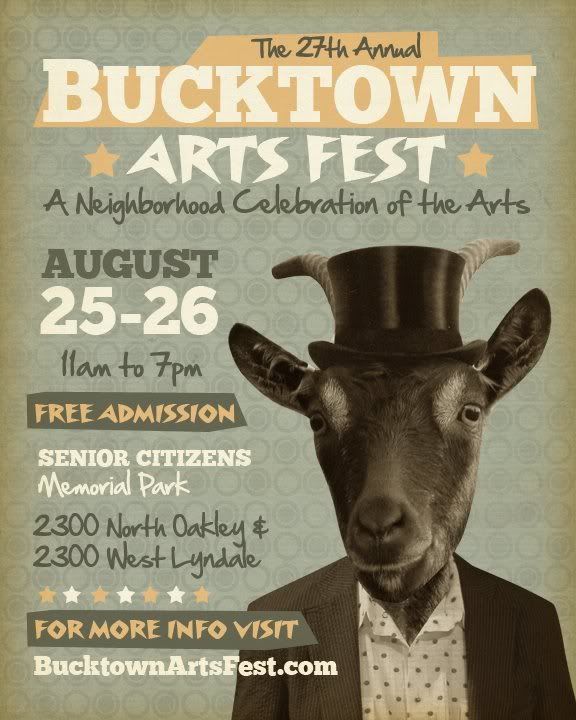 Sun. Aug. 25th 
8 a.m. to 2 p.m. Wicker Park Farmers' Market (Wicker Park, 1425 N. Damen)
11 a.m. to 6 p.m. Last Call Sidewalk Sale- over 60 participants (All over Neighborhood)
11 a.m. to 7 p.m. Bucktown Arts Fest (2200 N. Lyndale, at Oakley)
Noon to 9PM: St. Helen's Carnival (Western and Augusta)
Noon to 10PM: Food Truck Social (Chicago Ave. between Wood & Wolcott)
Bucktown Business Featured Neighborhoods Residential Updates Wicker Park 1144 N. Milwaukee Ave., 1658 N. Milwaukee Ave., 7-11, food truck social, movies in the park, No. 1 Nails, Number One Nail Salon