By chicago-pipeline at August 20, 2012 | 8:27 am | Print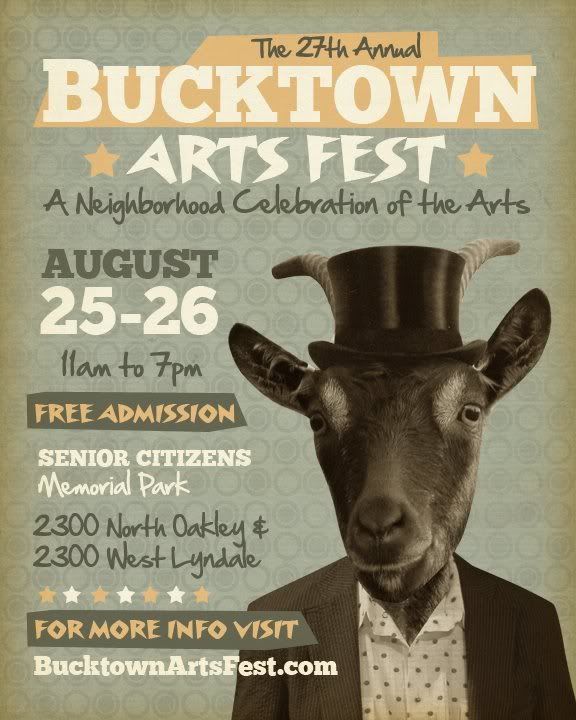 "Most people don't know that the Bucktown Arts Fest is an all-volunteer organization with no paid staff and no paid event planner," explains Melissa Hellstern, president of the Bucktown Arts Fest, which takes place from 11 a.m. to 7 p.m. this Saturday and Sunday (Aug. 25th-26th) in Senior Citizens Memorial Park, 2300 W. Lyndale, at Oakey (map it). View street closures here.
The 27th annual will showcase nearly 200 artists of local and national appeal, plus musicians, dancers, poets & performers. Volunteers can still sign up for shifts here. 
Admission is free, with all proceeds from the fest going toward developing and supporting arts and education programming at Holstein Park and in the Bucktown/Wicker Park neighborhoods.
New this year is a 'Dancing Dome of Doom' at 4 p.m. on Sunday, Aug, 26th!  It will be run by Collaboraction Theater Co.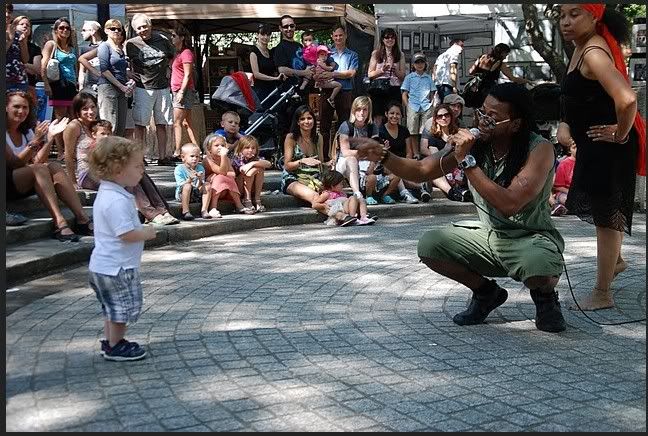 Instead of depending on national touring acts and marquee names to attract teeming crowds, the Bucktown Arts Fest's music stage is also proud to put the spotlight on the remarkable musicians who live in and perform around Bucktown and its surrounding neighborhoods. The diverse music lineup offers a range of musical styles from blues to bluegrass, jazz to indie rock.  Pictured is a photo from the 2011 fest, snapped by Philin Phlash. 
Main Stage Music Lineup HERE.  (stage is located at Belden and Oakley).
New Jazz Roots Stage Music Lineup HERE (stage is located at the end of Lyndale, near Leavitt)
One band at least one person is looking forward to is Wussy, a four member rock and roll folk leaning band out of Cincinnati, Ohio. Via writer Robert Loerzel's Facebook Page, "Wussy plays 6 pm Sat. Aug. 25 at the Bucktown Arts Fest. Robert Christgau calls them "the best band in America." This is their only scheduled Chicago show of 2012. You should see them."
Learn more about Wussy in Christgau's essay, 'The Many Reasons to love Wussy."  (Photo at right from Wussy's website) and in this Chicago magazine piece by Whet Moser.
What or whom are you looking forward to checking out at this weekend's fest? Let us know via a comment here. Also, reach out if you'd like to volunteer to report on the fest. We'll feature your dispatch and photos on this website and in our weekly e-newsletter.
Arts Bucktown Featured Neighborhoods Residential Updates 2300 w. lyndale, arts fest, bucktown arts fest 2012, collaboraction, wussy