By chicago-pipeline at August 11, 2012 | 5:34 pm | Print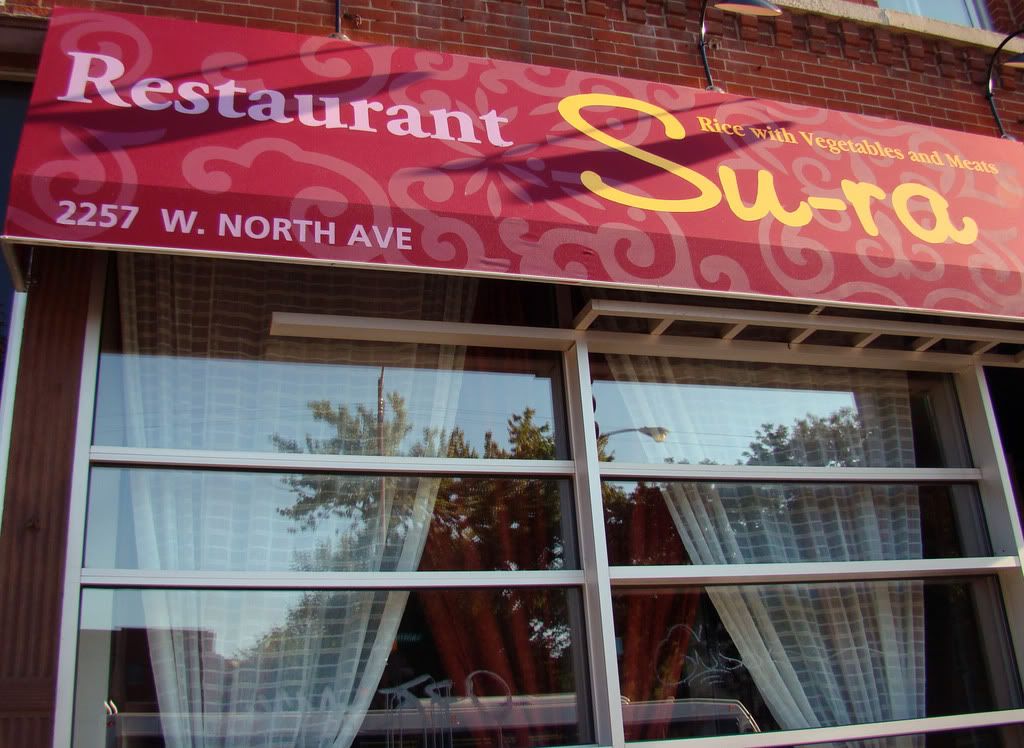 The storefront at the northeast corner of North and Oakley avenues at 2257 W. North hasn't been the luckiest of places for local business owners over the past eight years, a trajectory we don't feel so bad documenting since our luck hasn't been so great, either.
When we moved to the neighborhood in 2005, less than a block away from the corner space, it had been home to an upscale pet boutique, which later relocated to Logan Square.
We'd just gotten a divorce, the economy was surging, and we were doing well at our job. On a whim we walked into the pet boutique and purchased a fancy cat bed for our cat that cost more than what we'd pay on a few weeks of groceries today.
After the pet place, a Korean restaurant, Su-Ra, moved into the space during the summer of 2007. Its owner, Euiha, pictured, was one of the nicest guys ever, and did a great job building out a back garden. By that time, we'd- okay, I--  had resigned from my job that allotted for fancy cat bed shopping sprees, and was working as an advertising sales rep for the Chicago Reader.
Su-ra had advertised in the Reader, and myself and an ex had attended its soft opening, enjoying bi bim pop and other dishes. Here's a photo slideshow. It was at Su-ra's opening party when we noticed that a lot of Euiha's friends and family were bringing him plants.
"Why all the plants?" we asked.
Euiha informed us that in Korean culture, it is customary that people give you plants when you open a business. The tradition is that if you can keep a plant alive, you can keep a business going, too.   Talk about pressure.
(For the record, when Su-ra closed about a year later, there were plenty of healthy plants in the windows and its back garden. We'd been semi regular customers and thought the food was amazing, as did editors from Time Out Chicago, which regularly featured Su-Ra).
The space was vacant for about a year, when in late 2009 or early 2010, Pannenkoken Cafe moved in.  By then we were writing a weekly member e-newsletter as a freelance project for the local chamber of commerce.
In the newsletter, we'd cheerfully reported that "the second outpost for the Dutch pancake shop that does great business up north is headed to our area!" or something like that.
About a year later, Pannenkoeken closed.  From the looks of Yelp, the Pannekoeken business up north continues to thrive, with mostly all 5-star reviews and the biggest complaint being the long lines.   Here in Wicker Park, we never even saw a line.
Enter Yuca cafe.  In early 2011. We met its owners, pictured, on a cold winter day. They were friendly, participated in the pipeline's first two printed efforts– We're in the Neighborhood and Celebrate!– and by the time we did this past summer's guide, Yuca had abruptly closed and there was a heavy duty lock on the door.
So what's next for the future of 2257 W. North?  The Lazy Parrot of the Caribbean, owned by Jorge Laguardia, the brother of Carlos LaGuardia (owner of Cafe Laguaraia in Bucktown) plans to celebrate its soft opening this Monday.
We popped by earlier today, sat down at a two-top table to chat up Jorge about his new venture (previously he ran the Laguardia Cuban Bistro on Armitage, after flood damage had caused him to move from a prior space on North Avenue that he'd operated for eight years), and in the process of sitting down, our pants somehow managed to catch on the edge of a metal air grate… and rip.
That's right, we ripped a hole in our jeans on our butt cheek, though that's not relevant to this story only perhaps to say that we aren't so lucky either these days. Jorge's daughter, Samantha, pictured here in a blurry shot (our camera is on the fritz!) with her dad, had an ingenious idea: wear our messenger bag over our left shoulder and kind of rotate it back to cover the affected spot until we get home, which we most certainly did.
Moving on, Jorge told The Pipeline that he was envisioning a colorful place to match the Caribbean, and because he's always liked parrots, and used to own a few, thought that it would be a fun theme. The word 'lazy' comes from the idea that when you go to a restaurant as a patron, you don't want to have to think about anything. Just breathe, enjoy food, and be lazy.
The menu, per Jorge, will be similar to the Cuban bistro on Armitage, with authentic Cuban sandwiches, and lots of chicken and fish dishes. It'll be BYOB until a liquor license is obtained.
Website and hours forthcoming soon. Considering the history of the space, it might be a good thing that Monday the 13th – opening day- doesn't fall on a Friday.
Looking for work? The Lazy Parrot of the Carribbean is hiring, per this sign.
Bucktown Business Featured Neighborhoods Residential Updates Wicker Park 2257 W. North, Laguardia, Lazy Parrot of the Caribbean