By chicago-pipeline at August 9, 2012 | 7:42 pm | Print
As recently as a few months ago, the Wicker Park and Bucktown Chamber of Commerce had its own logo, independent of the logo for the Special Service Area #33/WPB, which shares an office with the Chamber at 1414 N. Ashland Ave.
So, when we picked up a postcard for Out of Site Chicago, a series of 12 'unexpected encounters of public performance' at Filter Cafe last night, we were surprised to see the back of the card listing the project as being supported by 'Wicker Park/Bucktown Chamber of Commerce SSA #33′ with the two entities merged as one.
The front of the card asks, "Do you believe in Wonder?"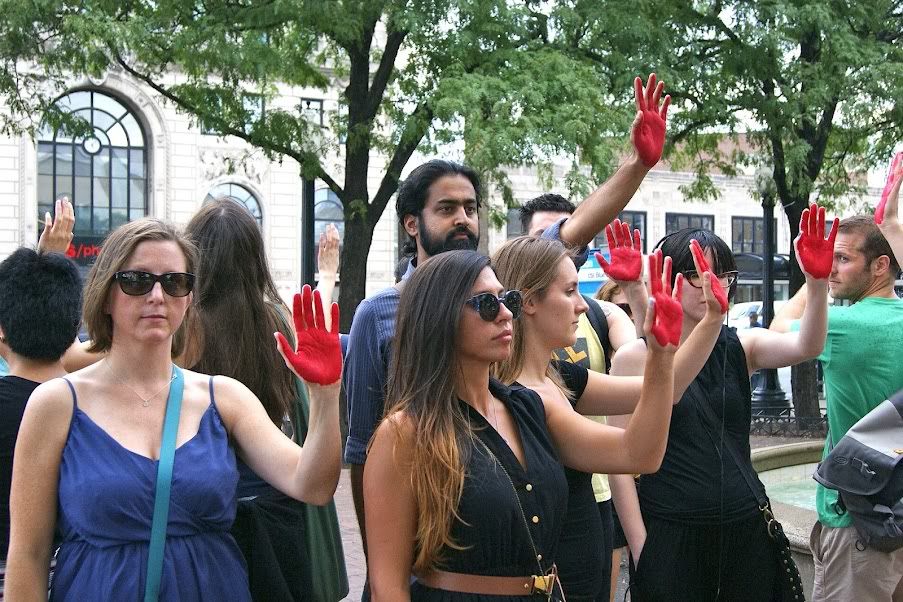 Curated by the Defibrillator Gallery, Out of Site Chicago targets commuter-audiences from 5-7 p.m. as they leave work on 12 consecutive Fridays through Oct. 12, 2012.
At the inaugural July 27th performance, near the Polish Triangle, Time Out Chicago writer Laura Pearson observed 10 to 15 members of the ROOM Gallery hold up palms painted fire-engine red and stand there wordlessly before breaking into a collective 'ooooh.'"  Photo at right by Cesario Moza. 
The performance caused a witness to say ""What the fuuuck?" according to Pearson's full account, which can be read here. 
The following Friday's performance (see photos here), on August 3rd did not go off as smoothly.
According to Carron Little of the Defibrillator Gallery, who replied to our inquiry via email, "The policeman wanted to arrest two of the women for causing public obstruction for lying on the sidewalk. This happened directly outside the Damen L-Station at 6.30pm."
So how much do WTF-inducing and near-arrest moments of wonder cost and who's paying for them?  
Based on the minutes from the SSA #33 meeting on May 16th, it looks like $15,000, which irons out to $1250 per episode of wonderment for the 12 part series.
The Pipeline loves performance art, so in no way are we asserting that events like Out of Site shouldn't be occurring, in fact we are looking forward to catching tomorrow's show.
However, what we're 'wondering' about is how– in a challenging economic climate when our city is closing police stations, small business owners are shuttering their doors, libraries are cutting hours, and school budgets are in the red– tens of thousands of taxpayer dollars can be collected through the SSA districts and used on public art projects and performances, as well as other cool-but-perhaps-not-essential programs like an upcoming Open Streets event which will close an entire stretch of Milwaukee Avenue from Ashland to Western to motorized traffic from 10 a.m. to 3 p.m. on Sunday, Sept. 16th.  Read more about this on Grid Chicago. 
Open Streets was initiated by the SSA #33, which hired out the Active Transporation Alliance to organize it.  Per the latest chamber/SSA #33 e-newsletter, Open Streets is an opportunity  "for people to play, walk, bike and enjoy healthy recreation without motorized traffic."  It's being billed– like all of the SSA sponsored programs–as free.   However, it's not actually free.  The SSA #33 is footing the bill for Open Streets by using taxpayer dollars and paying the Active Transportation Alliance to run Open Streets.
Milwaukee Avenue business owners were visited recently by representatives from the Active Transportation Alliance, requesting their signatures of support for Open Streets.
A business owner who requested to remain anonymous wrote into the pipeline about the letter from Active Trans Alliance:
 "It even had a thing at the bottom where they wanted your name, business name, address, telephone number, etc., and they wanted you to sign on a line that said something like, "I fully support the Active Transit Alliance in its effort to spread joy and happiness and bubbles and candy and golden rays of sunshine and smiles on Sunday Sept 16th and I have no problem with the street being closed"
Not exactly those words, obviously.  But they did want to you to sign showing support.  I did not sign, I did not send it back to them.  They called and asked if I would sign and mail, I said no.  Then they stopped by once more asking if I would sign and I said no.  I'm really not a grumpy person, I just don't like when things like this mess with me conducting business as usual." 
After looking at the SSA #33 Commission's Public July Meeting Minutes for its Transportation subcommittee, it appears that of the 135 surveyed businesses located along the 1.4 mile stretch of Milwaukee within the SSA #33 district where the Open Streets event will occur, signatures of compliance were obtained by only 40% of the businesses.  Despite the fact that the majority of business owners on the stretch do not appear to be in support of Open Streets, it will nevertheless be using their property tax dollars anyway, while adversely affecting revenues for businesses who might rely on customers who drive, such as car washes, and boutiques and salons which do strong business on Sundays.
As previously reported by the pipeline's Jon Graef when he attended a meeting last month wherein East Village property owners aired their thoughts on receiving a property tax increase due to West Town's SSA #29 expansion, SSAs are taxing districts that fund expanded services and programs. Examples include providing publicity for SSA businesses and public way maintenance.
According to the City of Chicago's Inspector General resource page, as of May 11, 2011 there were 43 active SSA districts in the city, with an aggregate budget of approximately $23 million. The SSAs are partnered with local non-profits called Service Providers. In most cases, these service providers are chambers of commerces or local community groups/councils.  See list.
In addition to marketing the neighborhood and contracting with vendors like Time Out Chicago, which produced a guide to WPB for the fourth consecutive year, costing the chamber/SSA #33 some $24,000 for the 2012 edition, the SSA#33, which had an annual budget of $1,153,998 in 2011, also contracts with vendors like Clean Slate to provide supplemental street cleaning.
Among the tasks given to Clean Slate workers is the removal 'low level' graffiti.  However, The Pipeline wonders why there is a need for a separate private contractor when another city department is already handling street cleaning and graffiti removal? Earlier this morning (August 7th), we witnessed a worker from the city's Streets and Sanitation Dept. cleaning graffiti off of a brick building across from Aldi Foods in the 1700 block of N. Milwaukee Ave.  If the Streets and Sans workers are capable of removing high level graffiti, could they also remove low level instances, too?
One can only wonder. Until then, it looks like if you check the Clean Slate customer list and the SSA Provider List on the Office of the Inspector General website, you'll notice plenty of crossover.  Since public way maintenance and street cleaning is one of the larger SSA-funded programs, what chunk of that aggregated $23 million budget from our city's 43 SSA districts is going to Clean Slate, and could that money be better used on police officers or teachers?
Arts Featured Neighborhoods Updates Wicker Park carron little, chicago, clean slate, Laura Pearson, open streets in wicker park, out of site, sept 16th, special service area taxing districts, SSA, ssa #33, time out chicago