By chicago-pipeline at August 6, 2012 | 10:37 am | Print
(Portions of this post initially appeared in Celebrate! magazine co-published in collaboration with Our Urban Times)
When I arrive almost 10 minutes late to a Monday morning advertising sales meeting with Peter Poulos, proprietor of Margie's Candies, I am full of apology, though, as it turns out, so is he.
"You're the young lady I was told never to be mean to, but I was," Peter tells me.
He was referring to a year ago spring, when he shooed me out the door as I had attempted to solicit the candy and ice cream shop's participation in We're in the Neighborhood, the pipeline e-newsletter's first printed effort.
Though the pipeline was familiar enough among some net-savvy circles, for someone like Peter who isn't on the computer much, or subscribed to our weekly newsletter, we weren't any different from any other solicitor, plus we did not have anything to show for any previous printed efforts because it was our first printed booklet.
Many months later, after I'd dropped off a few copies of the published booklet, leaving them at the counter, I walked into Margie's Candies with renewed courage and a desire to include Margie's in Celebrate!, a winter magazine published by the pipeline and Our Urban Times.
This time around, I was surprised to be warmly greeted by Peter with a bemused, 'Where have you been?'
Don't let the suddenly friendly proprietor sitting in the back manager's booth, going through a stack of mail, fool you. Peter told me that he'd had a 102-fever the night before our scheduled meeting and only got a few hours sleep. Why exactly he came into work, well…  that's what he does.
Margie's Candies as an operation is sharp as nails. It has had to be, to survive almost 100 years in business, including a major Depression, two World Wars, and what Peter, a third-generation proprietor describes as "this new Recession."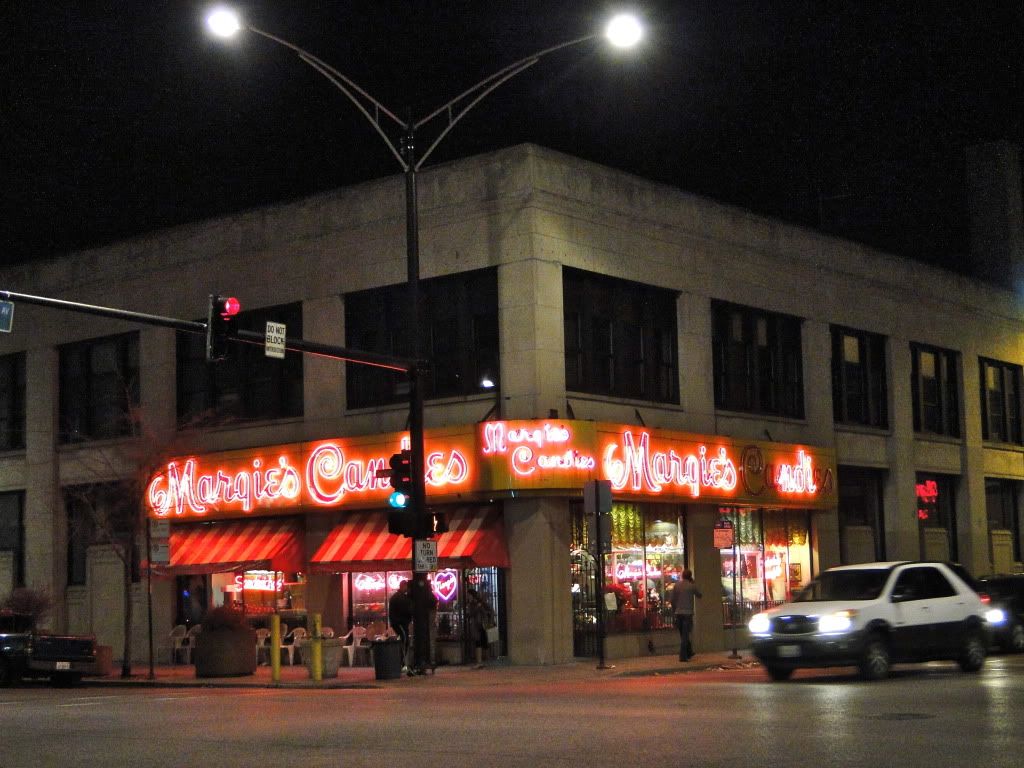 In 1933, Peter's grandfather, Peter, and his two cousins, Gus and Jim, decided that the shop they'd owned and operated together since 1921 wasn't a big enough business venture to support three families. At the same spot it is today, on the southwest corner of Armitage and Western, Margie's Candies was then called First Securities Candies and was attached to First Securities Bank, now Cole Taylor Bank.
The three cousins split, each going on his way and carving out the sweet American success story to be carried on by their children and their children's children.
Today, Jim's son, Steve, runs The Sweetshop in suburban Winnetka and Gus's sons, Steve and Dean Polous, operate Homer's Ice Cream in Wilmette. Peter's father, George, worked at the ice cream shop as a youth and teen and inherited the business from his father in 1936.
In 1933 George had married a woman named Margie Michaels. Inspired by his young wife, the shop was renamed to Margie's Candies to honor Margie, a sharp businesswoman who had the foresight that it would be better to own than rent.
Margie got a job outside of the shop to help pay for the mortgage. She also had clout. When George was returning from World War II, she received permission from the alderman to block off the street for a party upon his arrival. The street was filled with music and plenty of Margie's loyal customers as George stepped off the tracks of the el, at Western. The year was 1944 and Peter, who was "six or seven" at the time, remembers the party clearly.
In 1954, when Peter was just 16, George passed away at 45. Peter soon began working with his mother and helping her out in the shop when he wasn't in school. "My mother was small, dainty, she couldn't pick up a bag of sugar," he said.
For thirty years, from the ages of 24 to 54, Peter worked as a podiatrist, a profession that he said he enjoyed because "I practiced like I didn't need the money." He worked at Margie's Candies as much as he could during this time as well. In 1995, Margie passed away, after having worked the front register for over fifty years.
Shortly before Margie passed, Peter asked his mother if she was going to sell the store and she said no. Peter then closed his podiatry practice, located in the Flat Iron building in the heart of Wicker Park, in 1995, to run Margie's full-time. His medical assistant, Maria Gomez, also began working at Margie's that year and still refers to Peter as Dr. Poulos. Peter's son, George, is sixteen and works in the store on weekends. (Pictured is Peter, Maria, and Hugo, another longtime worker).
Around the time Fannie Mae went bankrupt in 2005, Peter purchased the former Fannie Mae store at 1813 W. Montrose, in the North Center neighborhood, for his wife Christine. The second store was Margie's first foray into expansion in over eighty years.
When asked about success, and how he became successful, Peter insists that he is not that successful and just a "small timer."
He cited another Greek, a guy named Andy who operated 104 ice cream shops at one time in and around Chicago and the burbs during the same time Margie's was in business, as if to say, now that's success. There is a twinkle in his eye when he tells me about Andy who went to Germany and came back with two special chocolate pressing machines. "Have you heard of Andes Mints?" he asks. That's Andy. Peter stood up in Andy's son's wedding.
He thrives on "seeing people be happy in the store" and especially enjoys when young couples pop the big question inside the shop, just as he did. In 1990 at Table 5, a charming curved booth perfect for two, tucked into the corner, Peter asked his late wife Christine to marry him. As recently as six months ago, there was another proposal at Table 5, with a ring inside the fudge.
Margie's continues to give a free ice cream cone with proof of an "A" on a report card. While the neighborhood has gentrified (Margie's neighbor, a drive-thru ATM across the street, was formerly a White Castle and before that The Oak, an X-rated movie theater) some echoes of the past have produced problems. Strollers, for example, have gotten bigger, yet the narrow aisles inside Margie's have not. Briefly a "no strollers" sign was tacked to the register. (For the record, the sign was removed and strollers are welcome, per Peter.)
Though Peter does little advertising and relies on word of mouth—after all, homemade candies and turtle fudge sundaes, banana splits, toffee, and shakes sell themselves, and have even attracted praise from Mayor Rahm Emanuel—he attributes Margie's longevity and success to three factors:
1. High quality
2. Average prices
3. Good service.
Indeed by service he means longtime employees like Maria and Hugo Tapia, and his son, George Poulos, who plans to one day carry Margie's Candies into its fourth generation of business at Armitage and Western.
It was Maria who told Peter that he shouldn't be mean to me, and Hugo whom I witnessed helping Peter to his car on a rainy day a few days back when I saw him from across the street and rushed over to show him the mock up of the ad Joe designed for Margie's.  We were getting close to going to press time and I hadn't had a time to catch up with Peter.
As I sat in the passenger seat of Peter's car with the rain pouring, we went over some facts for this story and he gave me his approval for the ad.
His flip phone rang. "I'm talking to that lady you told me to never be mean to," he said to a concerned Maria, likely wondering why the car was still parked and the engine running.
Sometimes the hardest earned advertising sales are the sweetest of all. As I like to say, if you really want to hate yourself, go out and try to sell some advertising. Many thanks to Peter for not just buying an ad in the Celebrate magazine and this past summer's guide, but for inspiring us to tell his unique story, too.
Margie's Candies, 1960 N. Western Ave. P: 773-384-1035. Open Daily & Holidays, 9:00 am til Midnight
Margie's on Montrose, 1813 Montrose Ave. P: 773-348-0400 Mon-Thu: 9am-10pm, Fri:  9am-11pm, Sat: 10am-Midnight, Sun: 11am-10pm
Articles Bucktown Business Featured Logan Square Neighborhoods Updates Wicker Park MArgie's candies, margies, margies in bucktown, peter poulos