By chicago-pipeline at July 7, 2012 | 6:35 am | Print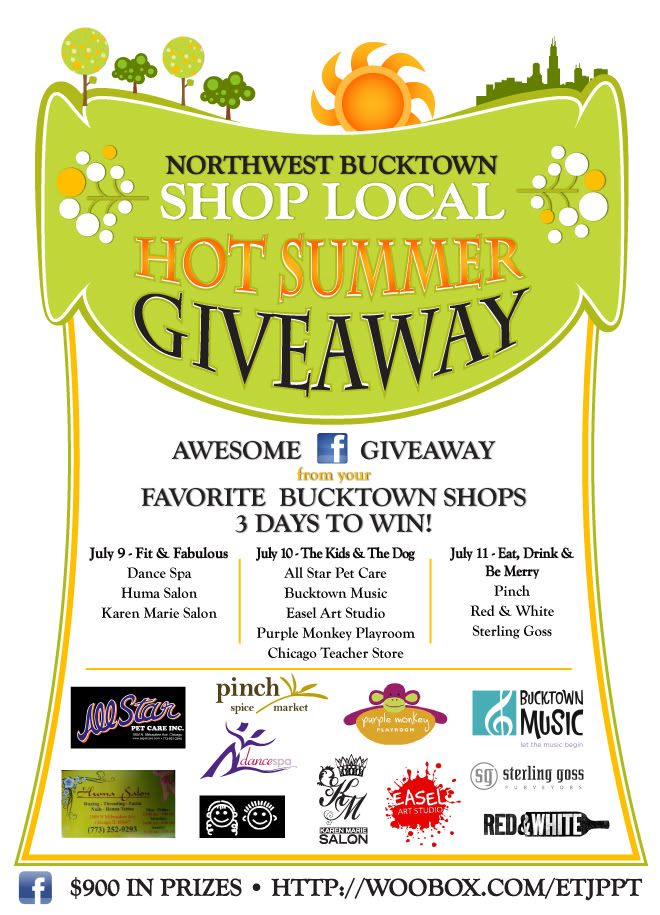 11 independently owned "Northwest Bucktown" businesses have banded together to create an easy no-purchase-necessary 3-day Facebook raffle featuring over $900 in prizes.
How it works: You earn points for "liking" each participating business on Facebook (links to their FB pages are below) and sharing the contest on Facebook and Twitter.  (Btw, "like" the Pipeline's Facebook page while you're there, too).
The giveaway begins on Monday, July 9, visit this link  EVERY DAY to enter win packages from some of your favorite local establishments:
Day 1 (July 9th): ENTER HERE. Fit and Fabulous featuring Dance Spa (1890 N. Milwaukee Ave.), Huma Salon (1909 N Milwaukee), and Karen Marie Salon (1859 N. Milwaukee)

Dance Spa 10 Class Punch Card & Private Dance Lesson ($165 Value)
Huma Salon Manicure, Threading & Henna Tattoo Package ($50 Value)
Karen Marie Salon Partial Highlight ($100 Value)

Day 2 (July 10th): The Kids & The Dog featuring Purple Monkey Playroom (2040 N. Western), Easel Art (1911 N. Milwaukee), Bucktown Music, Chicago Teacher Store (1855 N. Milwaukee), and All Star Pet Care (1904 N. Milwaukee)

All Star Pet Care 5 Days of Dog Daycare ($100 Value)
Bucktown Music 4 Weeks of Kindermusik & 10 Song Music Download Card ($65 Value)
Chicago Teacher Store Craft Basket ($100 Value)
Easel Open Art Pass ($100 Value)
Purple Monkey Playroom One Month Membership for Up to 3 Siblings ($165 Value)

Day 3 (July 11th): Eat, Drink & Be Merry featuring Sterling Goss (1845 N. Oakley), Pinch Spice Market (1913 N. Milwaukee), and Red & White Wine Shop (1861 N. Milwaukee)

Pinch Spice Rack Rejuvenation Package ($60 Value)
Red & White Gift Card ($50 Value)
Sterling Goss Gift Card ($50 Value)
Bucktown Business Featured Logan Square Neighborhoods Residential Updates Wicker Park Huma Salon, karen marie salon, northwest bucktown, Pinch Spice Market