By chicago-pipeline at June 25, 2012 | 10:25 am | Print
Over 75 public and private gardens in the Bucktown neighborhood (boundaries: North Ave to Fullerton Ave,  Western Ave to Ashland Ave.)  are participating in this year's Bucktown Tree and GardenWalk, which takes place on Saturday and Sunday, July 14-15th, 2012 from 11 a.m. to 5 p.m. both days.
Held each year on the second weekend of July, the walk is an opportunity for hundreds of garden lovers to go on a self-guided walking tour of backyard paradises, landscaped roofs, secluded courtyards, and more creative uses of green space.  A tree inventory of over 50 species of trees (mainly on parkways with unusual and exceptional trees in private gardens noted) will be shared in the walk's guidebook, too.
The event is organized by the volunteer run Bucktown Community Organization in conjunction with its presenting sponsor Club Lucky, which will serve as 'Home base' for the walk, wherein walkers can pick up a Garden Walk Guide Books and maps, valet park, or catch the free trolley that will transport attendees around one square mile of the neighborhood with designated stops at some of the walk's sponsors for refreshments.
"Bucktown Garden Walk brings the community together in sharing the inspiration of our personal green spaces," said Sam Marts, co-chair of the BCO's Garden Walk Committee.  (Full disclosure, Sam's co-chair is Eva Bergant, the pipeline's 'Spaces' column sponsor).
Marts continued, "The annual event raises funds that are reinvested into beautification of the neighborhood, including floral and green space improvements at libraries, parks, and schools."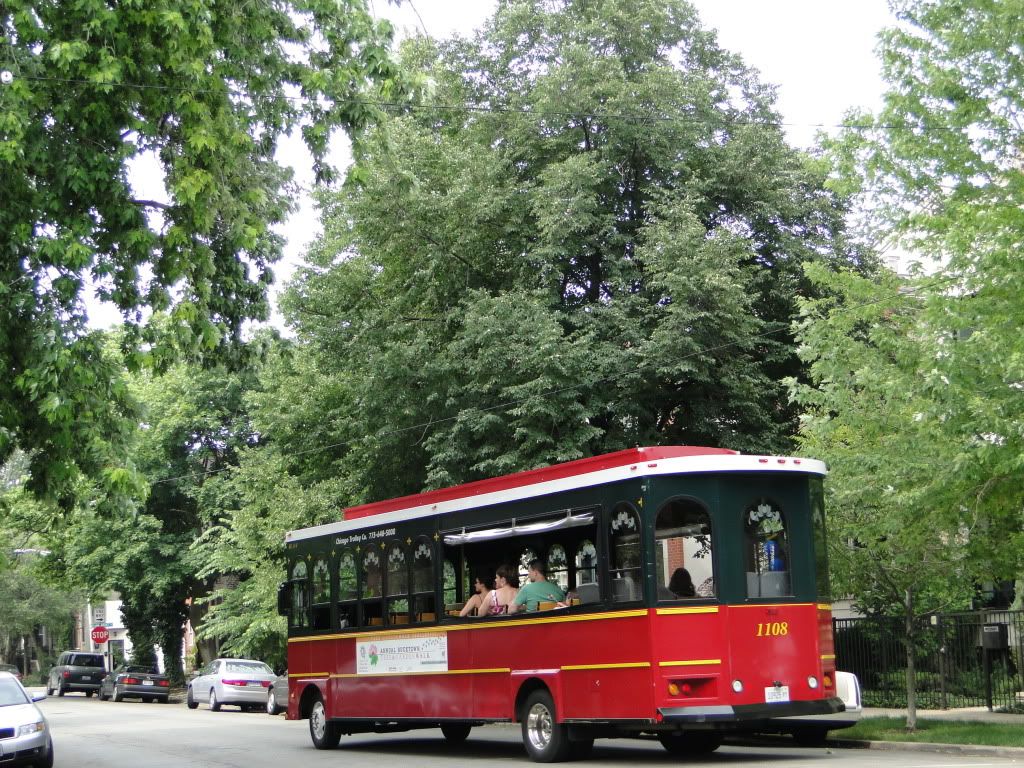 The Garden Walk Guidebook will be available for a donation of $5 at the Club Lucky welcome table, at Lottie's Petting Zoo and on the Free Trolley. A map of the trolley route and stops will be available in advance at www.bucktown.org. This Guidebook is the key to the gardens and trees as well as the spot to find neighborhood events and discounts for the weekend.
In addition to gardens, Lottie's Pub, 1925 W. Cortland, is hosting a Petting Zoo, wherein young folks can visit, touch, and feed small animals not usually found in urban garden.  Pizza will be half off at Lottie's from 4-7 p.m. on the day of the walk.  Lemonade at Lottie's will be just $1, or $4 with vodka.
Art in the Garden…   Plein Air Painters of Chicago will again set up their easels around the neighborhood and create artwork al fresco in the gardens and streets of Bucktown all weekend long.
Entertainment…  Club Lucky's Garden Oasis Stage will feature live musical acts from 3 to 10 p.m. on Saturday and 3 to 9 p.m. on Sunday. Fresh food and drinks will be available, including the "Six Corner Fizz," a new mixed alcoholic drink that pays homage to the Garden Walk by utilizing edible pearls made from violets and orange blossoms.  Earlier this year, 'Six Corner Fizz" won Official Drink of Wicker Park honors at a chamber fundraiser.
In addition to the garden, the Bucktown Tree Walk portion of the event is unique in the city as it highlights the canopy above us, year round. The Tree Walk, used for several education tours during the other seasons of the year, is included in the Guidebook, detailing locations of over 50 species of trees.
For photos (snapped by The Pipeline) from previous walks, check out the 2009 BCO Garden Walk album, the 2010 album, and 2011 Album, as well as photos from a guided Bucktown Tree Walk with Janet Mrowka, including names of local tree species.
For more information on the BCO Garden Walk, or to volunteer, visit bucktown.org.
MUSIC LINE-UP:
Saturday July 14
3pm  Hadley Kennary
4pm  Jack Salamander
5pm  Honey & Buffalo
6pm  Dawn Xiana Moon
7pm  1/2 Mad Poet
9pm  Matthew Morgan & The Lost Brigade
Sunday July 15
3pm  Jeff Brown
4pm  TheJazz Workshop
6pm  Junction 325 
8pm  Jenny Dragon
Arts Bucktown Featured Neighborhoods Residential Updates 2012 BCO Garden Walk, bco garden, bucktown garden walk, bucktown gardens, club lucky garden walk, gardenwalk, Matthew Morgan and the lost brigade