By chicago-pipeline at June 24, 2012 | 8:16 am | Print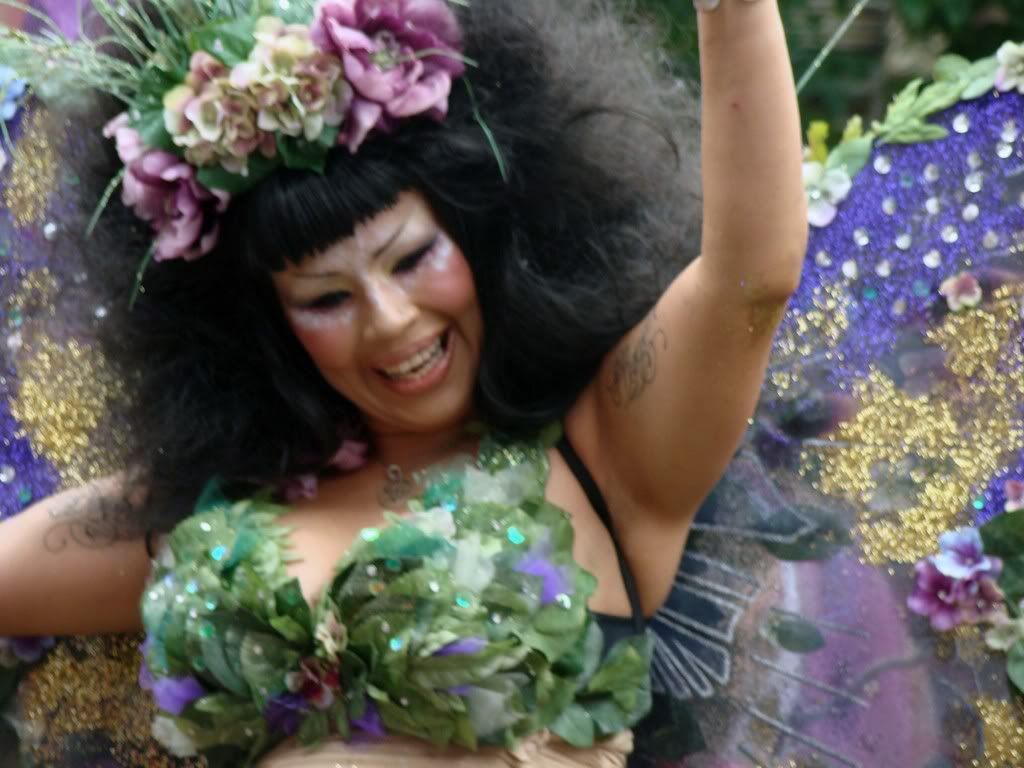 Happy Pride Day! Here's some 'pride pastries' spotted on The Wormhole Facebook Page and a photo from the 2006 parade.
The 43rd Annual Pride Parade kicks off today at Noon, at Broadway and Montrose.
The parade is expected to last 2.5 hours and includes 200 registered floats. Last year's event brought a crowd of 750,000.
Staying in the neighborhood?
Here's what's on The Pipeline's radar today. Missed your event? Add it as a comment.
7AM-5:45PM: Holstein Park Pool Sunday Hours.
It'll be 90-degrees, what better place to be than in the pool? 2200 N. Oakley in Bucktown.
8AM-2PM: Wicker Park Farmers' Market- in the park, 1500 N. Damen. Happening now! CONGRATS to Nichols Farm & Orchard, pictured, for winning 'Best Local Farm' in the Chicago Reader's Best Of issue this past week.
10AM-3PM: Logan Square Neighborhood Garage Sale continues.  Here's C. trying on snow pants, which fit perfectly and she got for $5. She also made out with these cool pillow covers for $1 each. If you're planning to check out the sales today, expect a ton of baby clothes and kid items. The 2449 W. Logan Boulevard sale was the biggest and most impressive of the group…  lots of random items and concert posters.
11AM-12:30Pm: Free Magic Boat Puppet Show. At today's show, per Our Urban Times, "Children will be engaged in stories about music to be played in next weeks's Classical Music Concert as they create art, dance and learn about Wicker Park History from the Culture Lady (aka Elaine Coorens)." Photo of the Magic Boat puppet lifted from Our Urban Times.
5PM: Official Pride Parade After Party Presented by Candy Land, $10 (2135 N. Milwaukee Ave., Congress Theater)

Noon-10PM: Green Music Fest, Day 2.
By far the biggest event in Wicker Park, Day 2 of the Green Music Fest will feature plenty of food, drinks, vendors, kid's activities, and live music.
The fest is on Damen Ave., between North and Schiller.
Here's the Music Lineup for today:
North Stage: The Raveonettes @ 8:00 pm (see 'Love in a Trash Can,' below); Apteka 5:30 pm; Viceroy 3:30 pm
South Stage: Passafire @ 6:30 pm; Oh My God @ 4:30 pm; Milano @ 2:30 pm

The Family Fun Fest area is at North and Damen and open from Noon-5PM today. Bring along the tots for educational children's activities including: recycled arts & crafts, DIY musical instruments, organic cooking demos/classes, clowning, face-painting, puppetry, drumming and dance demos, student performances, live children's music and local pest experts on hand to teach kids about good bugs and how to help keep gardens green.  Also, staffers from the Museum of Science & Industry will be showcasing experiments from the Museum's free Summer Brain Games program, which offers free, fun at-home science experiments that families can do together…   Among the highlights: harnessing the power of the sun to make your very own solar oven and  'Garden in a Glove,' using an ordinary plastic glove, some seeds, water and cotton balls.
Note: There is a $5 suggested donation for admission to Green Music Fest.
Arts Bucktown Business Featured Neighborhoods Residential Updates Wicker Park farmers market, Green Fest, green music fest, magaic boat puppet show, magic boat puppet show, Nichols Farm, pride parade