By chicago-pipeline at April 14, 2012 | 10:03 am | Print
An altercation that began inside of the Congress Theater, 2135 N. Milwaukee Ave., during an opener act at last night's Meek Mill rap show and ended in front of the venue brought over 20 police officers, one alderman, a district police commander and the fire department to the scene. No arrests were made.
The Pipeline arrived shortly after the incident had occurred, around 10:45PM.
Joining the numerous officers and an estimated 100 patrons who were hoping to either get back into the venue or get a refund was First Ward Alderman Proco Joe Moreno, accompanied by two community security workers that Moreno had hired out of his own pocket, due to concerns about the background of one of the evening's artists, Chief Keef, who wears an electronic monitoring bracelet and had been granted permission by a judge to perform.  This news of the additional workers had been shared earlier that night by Ronda Locke, 1st Ward Director of Community Outreach, who'd posted a message to the 1st Ward Community on the GGNA message board.
14th District Police Commander Linda Flores reported to the The Pipeline that the fight had involved "an altercation with an officer outside of the venue." When asked how many officers or how many people were involved in the fight, Flores could not elaborate. When asked about the large number of men in blue, she replied that they were expecting a big crowd and officers had already been in the vicinity due to another fight up the street.
Disgruntled patrons standing outside waiting to get into the venue were left in the dark concerning why they were prohibited from entering. Misinformation abounded including speculation that the show had been canceled, causing many waiting in line to simply go home.
The Pipeline witnessed Flores assuring confused fans that "everything is clear, it's back open" and that they could go back inside.  Flores then explained to the pipeline that the Chicago Fire Dept were examining occupancy and clear exit paths during the ongoing show.
According to Joe Vongkaysone of EvenFlow Promotion Group which rented the venue for three promoters representing artists Twista, Meek Mill, King Louie and Chief Keef, "Lots of people left, there are tweets that say the show was canceled due to a shooting."  It was Vongkaysone's first show at Congress in a 10 year promotion career, and, as a friend of rapper Twista he said he had wanted to do a show. He had been extra cautious and hired 25 of his own security to augment the 25 Congress provided in Vongkayson's rental agreement. There were 1,500 attendees.
Vongkaysone was present when the fight occurred. "I lost a lot of money. I'm going to have a lot of issues, but I'm not going to pick sides," he said.
Across the way from Vongkaysone, promoter John Doe was observed talking at length with the alderman. When The Pipeline approached the alderman and John Doe, they refused to field questions. At the end of the night Doe was still refusing to talk with the pipeline. "Beat it," he said.
Later that night we spoke with Congress security worker and auxiliary policeman Jonathan Errum, who said that he had dragged the patron out of the club after he had grabbed a cash register and was trying to hit someone with it. According to Errum, two undercover cops joined him on the sidewalk but no charges were filed and "Police let him go."
UPDATE 12:45PM 3/14/2012: In response to rumors circulating of woman in a car with a gun near the venue, Officer Mirabelli in CPD News Affairs confirmed no reports of any woman with a gun pulled over in a car near the venue or any arrest made of the woman as a witness said there had been.
"I can't confirm or deny that, there is nothing in the database about this," Officer Maribelli said.
UPDATE: Video footage here. Also, one of the security workers hired by the alderman at his own expense, can be viewed knocking on doors for the alderman in this Campaign Video from 2011.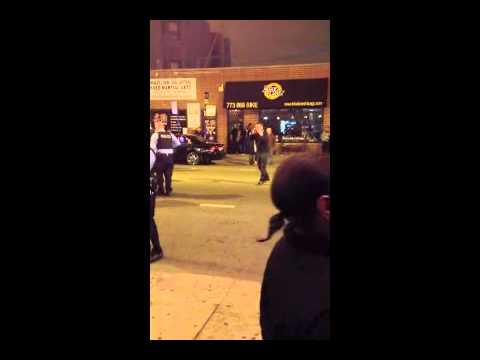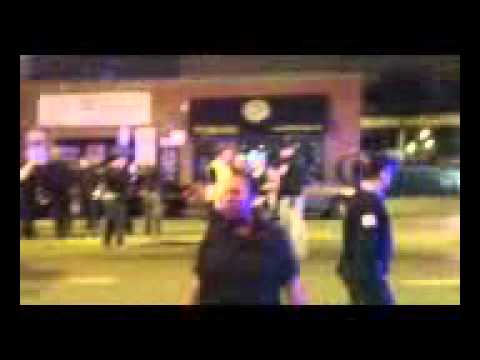 Business Featured Logan Square Neighborhoods Residential Updates ald. proco joe moreno, congress theater, John Doe. Chief Keef