By chicago-pipeline at April 4, 2012 | 10:56 am | Print
After a successful inaugural Beginner's class, Elaine Winer aka 'Elena Chicago,' is pleased to announce that she's ready to welcome new and returning adult students!
Tuesday, May 1st 2012 will mark the first evening of an 8-week series of 'Spring into Spanish' conversational classes focused on beginners, advanced beginners and intermediate learners.
The Pipeline introduced readers to Winer, an e-newsletter advertising sponsor, a few months back, and, as students in her beginner class, we've witnessed firsthand how passionate the recently retired high school Spanish teacher is in her classroom, which is unlike any other Spanish class we've ever had in high school or college.
We're currently wondering whether or not we should commit to the advanced beginner's class, with our only reservation being the fact that it always seems like there's an event or meeting to report on for the pipeline on Tuesdays…  We likely need to take the Beginner's class one more time since we missed about half of the sessions due to this darn pipeline!
As reporters or "periodistas," we enrolled in the class because we were interested in learning some basic conversation skills to help us interview Spanish speaking Chicagoans.  Joining us were a unique and uber-fun  mixture of people with similar motivations.  Our fellow classmates included the principal of a CPS school around the corner from Club Lucky who was interested in speaking with Spanish speaking parents and students, a teacher from that same school, an editor of an industry magazine focused on baking, a woman whose husband speaks Spanish as a first language and wants to communicate better with him, a Human Resources manager, a couple with a vacation home in Mexico that wants to be able to chat with neighbors and contractors, and many more people.
Check out the 'Elena Chicago' site for more information on the classes, which kick off on Tuesday May 1st.  On Tuesdays, Elena will lead Adult Beginner's and Advanced Beginner's classes at Club Lucky, 1824 W. Wabansia. On Wednesdays she'll be traveling to Pizzeria Serio, 1708 W. Belmont, in Lakeview to facilitate back-to-back Beginner and Intermediate classes.  For the details, check out her postcard.  Email or call Elena directly at 773-750-9960 to RSVP.  Below is a video shot in week 3 of the class that illustrates the massive amount of fun it was and why we are thinking about doing it all over again. Any pipeline readers want to join us in the Beginner's Circle (again)?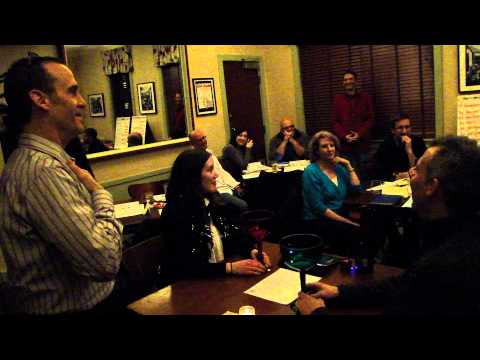 Bucktown Business Featured Logan Square Neighborhoods Residential Ukrainian Village Updates Wicker Park adult spanish, adult Spanish class, club lucky, elaine winer, Elena Chicago, elena winer, Pizzeria Serio, spanish classes in bucktown