By chicago-pipeline at December 1, 2011 | 12:54 am | Print
THANK YOU to all advertisers for making Celebrate! magazine a reality, just in time for the holidays!  Using all caps is equivalent to screaming, but sometimes you just have to scream, especially when you are saying 'thanks.' 154 local businesses made this magazine happen. A special thanks to main sponsors American Apparel, Sergio & Banks Realty, D&D Food & Liquors, and City Farm, as well as to Newsweb, which is printing the magazine (pictured is Andy of Newsweb dropping off page proofs and Josh- layout- and Elaine- co-publisher/managing editor. Cover art by Rick Liebenow).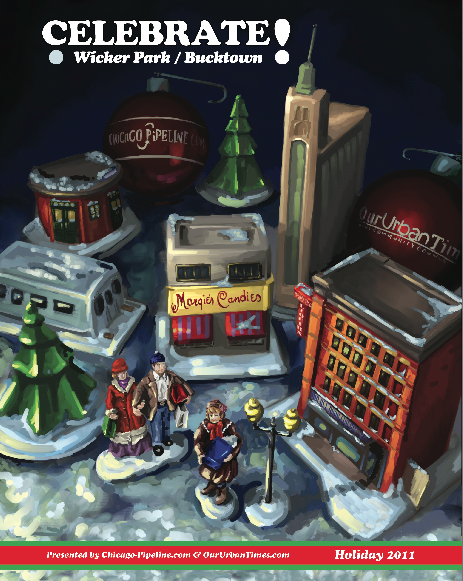 Here is the list of places where you can find Celebrate! as early as this Friday mid-to-late afternoon, Dec. 2!  Local Distribution will continue through this Tuesday, Dec. 7. Additionally, 15,000 copies of Celebrate! will be included as INSERTS inside of the Inside Booster newspaper's Dec. 6 edition.
In addition to the following spots, you can find Celebrate! at Snappy Mobil Gas Station at 1750 N Western, and Sam's Red Hots and Ipsento (we put a stack underneath the main newspaper rags) and Dunkin Donuts at Ashland and Division and Caribou Coffee on Damen and Tangerine on Damen and the lobby of the West Town branch of the Chicago Public Library, 1625 W. Chicago Ave. & approx. 40 other other places. Gunner's Pub at 1467 N. Milwaukee for some reason has more copies than they can handle, so if you are located near Gunner's please pop by and pick up copies at Gunner's!


1443 W. Division St.

Holy Trinity H. S.

2233 W. Divison
St. Mary Hospital
1956 W.
Armitage
Polonia Liquors
2100 W.
Armitage
Sergio & Banks Realty
2151 W.
Armitage
Moon Times Bar
2151 W.
Armitage
Sacco Bruno
2212 W.
Armitage
Cat & Mouse Game Store
2246 W.
Armitage
The Bento Box
1414 N.
Ashland
Wicker Park Bucktown Chamber of Commerce
1629 N.
Ashland
Humane Society
1659 N.
Ashland

Choppers

2515 N.
California
NOW Studio
1319 W.
Chicago
JK Imaging & Craft
1957 W.
Chicago
Atomix Café
2012 W.
Chicago
Sunrise Café
2021 W.
Chicago
dominick
2657 N.
Clybourn
32nd ward
1001 N.
Damen
Damen & Augusta Food Mart
1508 N.
Damen
7-11
1542 N.
Damen
Penny's Noodle Shop
1560 N.
Damen
Skewerz
1570 N.
Damen
Flash Taco
1644 N.
Damen
Buzz Killer Espresso
1646 N.
Damen
Goddess and Grocer
1721 N.
Damen
Caffe de luca
1846 N.
Damen
Miko's Flipside
2010 N.
Damen
My Pie Pizza
2123 N.
Damen
Larkspur Floral
2158 N.
Damen
Bucktown Beanery
2158 N.
Damen
Wicker Basket Deli
2144 W.
Division
Letizia's
1250 W.
Division
Lexus
1543 W.
Division
Chopin Theatre
1649 W.
Division
Rite Liquors
1736 W,
Division
Alliance Café
1741 W.
Division
le Dress Boutique
1747 W.
Division
Frill Accessory Boutique
1750 W.
Division
Caffe Streets
1756 W.
Division
D/Vision Optical
1824 W.
Division
Moonshine
1942 W.
Division
Division Ale House
1943 W.
Division
Grow
2006 W.
Division
D & D Liquors
2011 W.
Division
Janik's Cafe
2014 W.
Division
Couple's Corner
2018 W.
Division
Delish Diner
2027 W.
Division
Paper Doll
2111 W.
Division
North Coast Video
2112 W
Division
Division Gold Pawn Shop
2121 W.
Division
Armand's Pizzeria
2403 W.
Homer
Green Eye Lounge
1949 N.
Hoyne
The Map Room
2000 N.
Leavitt
Grisel & Junior Food & Liquors
2300 W.
LeMoyne
St. Alyoisus
3147 W.
Logan Blv
Logan Square Farmers Market
1164 N.
Milwaukee
The Occult Bookstore
1302 N.
Milwaukee
ARK Thrift Store
1321 N.
Milwaukee
Copymax
1331 N.
Milwaukee
826CHI/ The Boring Store
1372 N.
Milwaukee
walgreen
1373 N.
Milwaukee
Filter Café
1375 N.
Milwaukee
Copenhagen Cyclery
1389 N.
Milwaukee
Jackson Junge Gallery & Framing
1429 N.
Milwaukee
DeciBel Audio
1431 N.
Milwaukee
Eye Want Eye Wear & Eyeporium Gallery
1438 N.
Milwaukee
Hollywood Cleaners
1442 N.
Milwaukee
The Silver Room
1448 N.
Milwaukee
Personal Privilege Boutique
1452 N.
Milwaukee
Tiara Love
1462 N.
Milwaukee
The Wormhole Coffee Shop
1467 N.
Milwaukee
Gunners
1540 N.
Milwaukee
Crocodile Lounge
1547 N.
Milwaukee
Pint Pub & Restaurant
1550 N.
Milwaukee
Lubinksi Furniture
1562 N.
Milwaukee
BuckWick Organix Convenience
1563 N.
Milwaukee
American Apparel
1571 N.
Milwaukee
Foodmart- Milwaukee Ave.
1579 N.
Milwaukee
Kevin Lahvic Studio/Flat Iron Building Lobby
1623 N.
Milwaukee
Red Hen Bakery
1630 N.
Milwaukee
WP Jewish Center
1657 N.
Milwaukee
Wash Express Hand Car Wash
1658 N.
Milwaukee
The UPS Store #3173
1701 N.
Milwaukee
Wicker Park Bucktown Library
1704 N
Milwaukee
Evolution Wine & Spirits
1733 N.
Milwaukee
Spa Soak
1767 N.
Milwaukee
Aldi
1822 N.
Milwaukee
Odd Obsession Movies
1845 N.
Milwaukee
Sterling Goss Fine Meats & Purveyors
1861 N.
Milwaukee
Red & White Wine Shop
1919 N.
Milwaukee
Gorilla Tango Theatre
1950 N.
Milwaukee
Bucktown Liquors
2001 N.
Milwaukee
walgreen
2135 N.
Milwaukee
Congress Theater
2214 N.
Milwaukee
Jules Pet Shop
2300 N.
Milwaukee
VAS Liquors – Logan Square
1601 W.
North
Hollywood Grill
1803 W.
North
Universal Food & Liquor
1825 W.
North
Lucia Italian Ristorante
1834 W.
North
Vintage Underground
1854 W.
North
Quimby's Bookstore
1934 W.
North
Cheetah
1937 W.
North
Life's a Cabernet
2001 W.
North
City Soles
2014 W.
North
Olivia's Market
2051 W.
North
Asia Nails
2057 W.
North
Sultan's Market
2060 W.
North
W Grocer
2100 W.
North
Bucktown Fitness Club
2129 W.
North
Center for Neighborhood Technology
2157 W.
North
Crespos
2211 W.
North
Birchwood Kitchen
2215 W.
North
WP Art Center
2240 W.
North
Your Shoe Repair Shop
2246 W.
North
Bake
2255 W.
North
Jay's Beef
2257 W.
North
Yuca Café
2301 W.
North

Forte Framing

2333 W.
North
Bon Bon Vietnamese Sandwiches
2415 W.
North
Iwona Biederman- DreamBox Foto
2440 W.
North
walgreen
2509 W.
North
West on North Bar & Restaurant
1341 N.
Paulina
Jewel
1824 W.
Wabansia
Club Lucky Chicago
1858 W.
Wabansia
Lincoln Tavern
1673 N.
Western
Rio Jiu Jitsu Academy
1750 N
Western
Snappy Convenience Gas Station
1800 N.
Western
Solao Fitness
1845 N.
Western
Challengers Comics + Conversation
1901 N.
Western
Plazzio's Pizza
1960 N.
Western
Margie's Candies
2009 N.
Western
Lazo's Tacos
2058 N.
Western
1st Ward
2255 N.
Western
American Eagle Bank
2401 N.
Western
Quencher's Saloon
2743 N.
Western
Hyun's Hapkido Martial Arts School
1611 N.
Wolcott

Childrens' Dentistry of Bucktown
Bucktown Business Featured Logan Square Neighborhoods Ukrainian Village Updates Wicker Park american apparel, Celebrate, chicago pipeline, D&D liquors. City Farm, Inside Booster, Inside Publications, newsweb, our urban times, rick liebenow, Sergio & Banks Realty, wicker park. bucktown